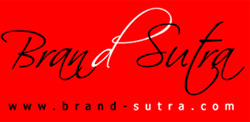 We are a full-service branding agency managing and implementing brands from inception through to sales and customer retention.

We are strategically accurate and relevantly creative; our work is compelling, intelligent and impactful.

We create rare brand identities. For us, it's all about arresting attention and engaging people in the very idea of our clients' businesses. We then help our clients cultivate that relationship and continue the brand journey via whole range of touchpoints; some quite unusual.

The Brandsutra hires and collaborates only with best of breed to help develop and steward your brand.